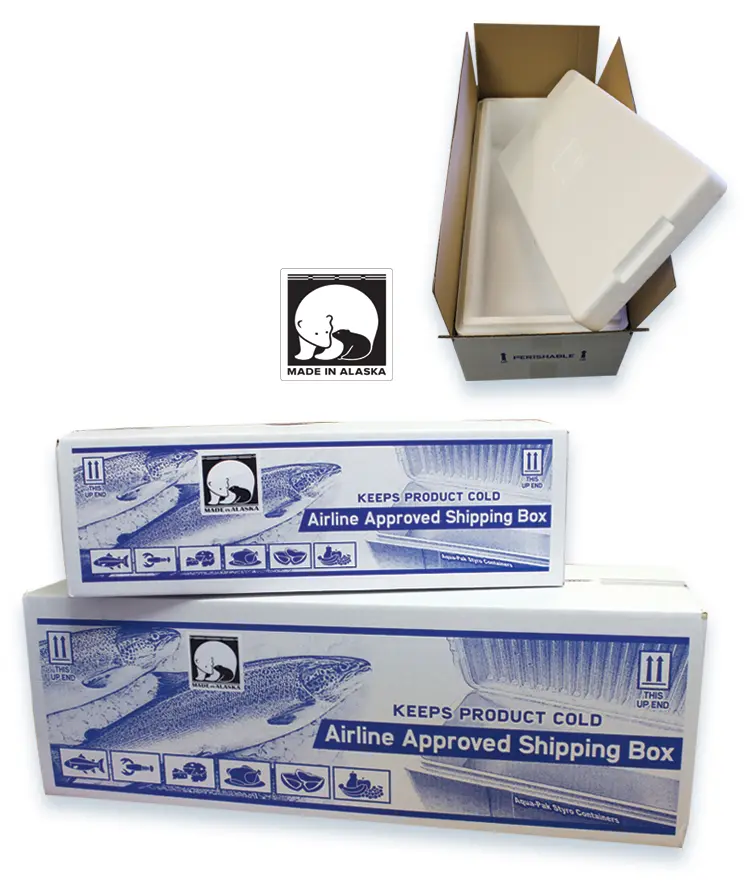 25 Lb & 50 Lb Foam Shipping Boxes
25 lb. Box
Size: 23" x 9.4" x 5.7"
Box Capacity: 25 lbs. and .71 cuft
50 lb. Box 
Size: 31.5" x 11.3" x 9.0"
Box Capacity: Up to 65 lbs. and 1.85 cuft
These two boxes are manufactured at our Wasilla, AK and Surrey, BC factories. These boxes are available at several retailers located throughout many parts of Alaska. Fred Meyer, Sportsman's Warehouse, Soldotna Hardware & Fishing are a few of the retailers who offer these boxes.
These 25 lb. and 50 lb. foam boxes are designed for transporting fresh or frozen perishables. These two foam boxes come with the outer corrugated box to protect the foam inserts while transporting and are both airlines approved.
These foam boxes will provide you with a longer duration of time for transporting your fresh or frozen perishables. When transporting frozen vacuum-packed products, these boxes will last you up to 24-36 hours while maintaining the integrity of your product.
Much like our TRY Fold 50 lb. Airline box, you can ship both frozen and fresh perishable products. If you are shipping fresh products, you will need to use a refrigerant such as gel or dry ice. We don't recommend wet ice as the airlines will not accept it. You can also ship these boxes using FEDX, UPS or USPS, but make sure your shipping arrangements allow for this product to arrive at your destination within 24 – 36 hours to maintain the frozen product.

The quality of how your product arrives at your destination is solely based on how well you clean and filet, vacuum pack, freeze and pack your product in an approved Airline Shipping box that meets the duration for your travel time. Visit Fish Alaska online Tips for Correctly Packaging and Transporting your fish and game.