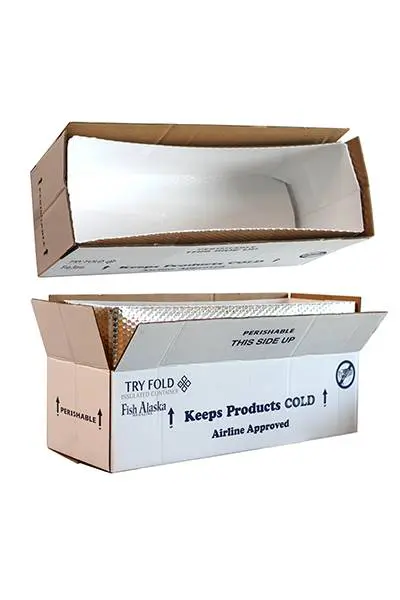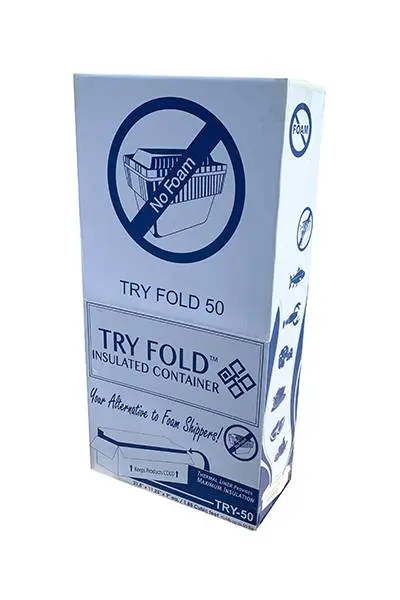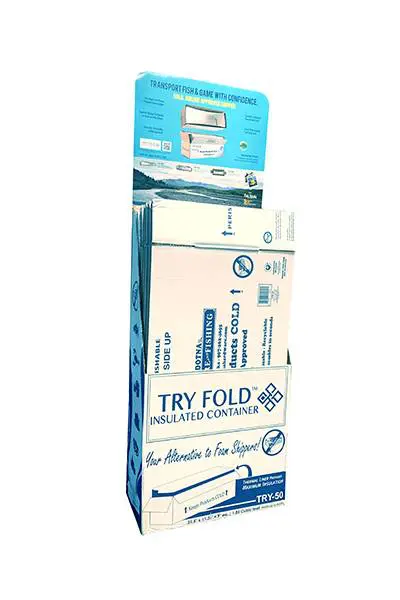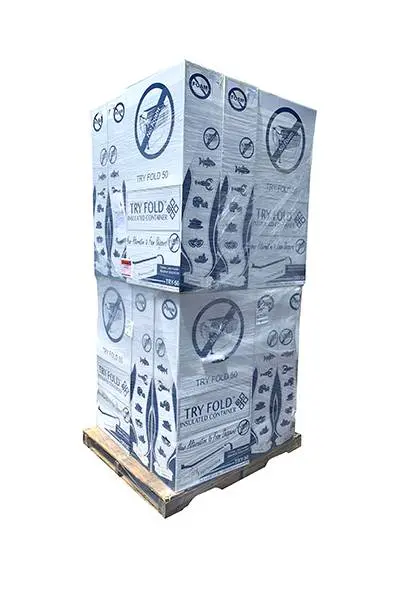 Try Fold 50 Lb. Airline Shipping Box
The TRY Fold 50 lb. Airline Shipping box will protect your fresh or frozen perishables for safe transporting. The box is designed with a durable double-wall corrugated outer box with a 3/16" foil/bubble liner that is glued inside the box. The liner comes with double-sided tape to allow you to close the liner once filled with your product. The inside of the box dimensions, when folded up, is 31.50" x 11.25" wide x 9.00" tall and holds up to 50 lbs. of product. The cubic feet of the inside of the box is 1.85. There are 10 individual boxes inside each case pack which allows for easy handling and storage. The pallet quantity is 16 case packs of 10 for a total of 160 boxes. The pallet dimensions are 40" x 48" x 90," and the weight is 550 lbs.
To set up this box, you only need 2" clear tape to secure the bottom of the box, place your product inside and use the double-sided tape to secure the liner. Tape the top of the box, and you, are set to transport your product.
You can ship both frozen and fresh perishable products in the TRY Fold 50 lb. box. The most successful method is shipping vacuum-packed frozen products. This method requires no gel or dry ice as long as you pack the box full with your product. If you have extra space, fill it with extra dunnage to top off the pack, so you eliminate as much air space as possible. You can expect 18 – 24 hours of shipping time to maintain the frozen product.
If you are shipping fresh products, you will need to use a refrigerant such as gel or dry ice. We don't recommend wet ice as the airlines will not accept it. You can also ship our TRY Fold 50 lb. box using FEDX, UPS or USPS, but make sure your shipping arrangements allow for the product to arrive within 24 hours or less.
This box is airline-approved, and you can check it in with your luggage. The box will hold up to 50 lbs. of perishable products. These boxes are located at several retailers located throughout Alaska. Fred Meyer, Costco, Sportsman's Warehouse and Soldotna Hardware & Fishing are a few of the retailers who carry these boxes. You can also purchase a pallet of 160 boxes directly from us.

​The quality of how your product arrives at your destination is solely based on how well you clean, filet, vacuum pack, freeze and pack your product in an approved Airline Shipping box that meets the duration for your travel time. - Visit Fish Alaska online Tips for Correctly Packaging and Transporting your fish and game.
Airline Approved Fish Box
(Put your logo on the box)
We also offer to print your logo on our box. The below boxes are made with the customer's private label logo. There will be a one-time print plate cost that will be around $500.00. This print plate can be reused each year to make your logo printed boxes.
The minimum order quantity to add your logo onto your box order is 480 boxes or 3 pallets. We make the logo printed boxes at the same time we make all of our boxes at the factory in January to be ready to ship to the freight forwarders in April.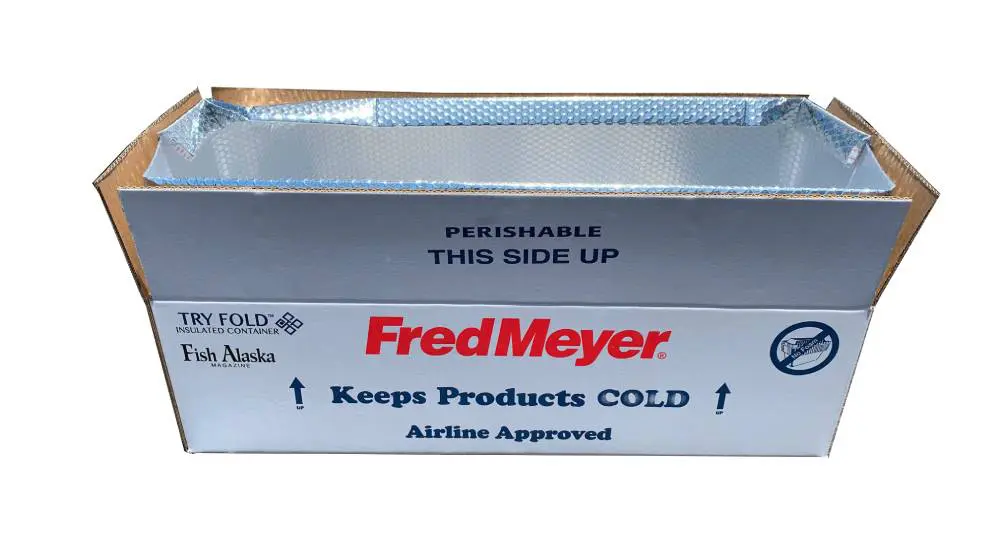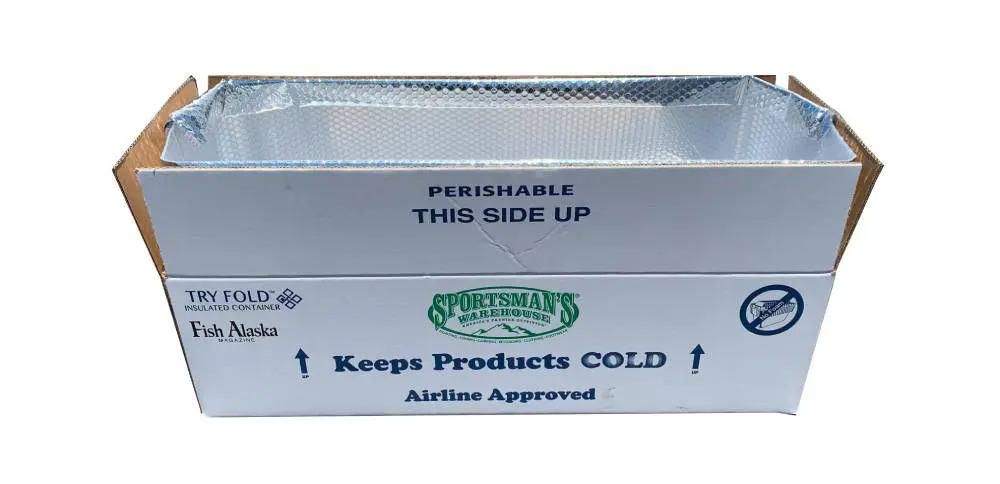 Try Fold Water Resistant 50 Lb Shipping Box
Under Development for 2023 release
The TRY Water Resistant Coat 50 lb. box is a two-piece box (top/bottom) with the top telescoping over the bottom to create a perfect shipping box. This box has a patent fold-up design that requires NO staples for either the top or bottom. The box is made with a heavy corrugated material that is coated with a patent coating technology. The coating prevents water from penetrating the corrugated material creating a water-resistant box.
We tested this box by setting it outside in the rain for two hours and what we found was that the rain would bead up on the corrugated material, and when you lifted the box, it would just drain off, preserving the quality of the material. This box is 100% recyclable and holds up to 50 lbs. of product. The inside dimensions of this box are 28.75" long x 14.50" wide x 7.75" tall. The cubic feet of the inside of this box is 1.87. The bottom box has a hand hole cut in on both ends that can be used to transport the bottom box to and from the freezer.
These boxes are banded 10 tops or 10 bottoms per bundle and then palletized 240 tops and 240 bottoms per pallet stack. The pallet size is 58" x 46.50" x 43.50," and the weight is 350 lbs.
Sample boxes will be available in 2023.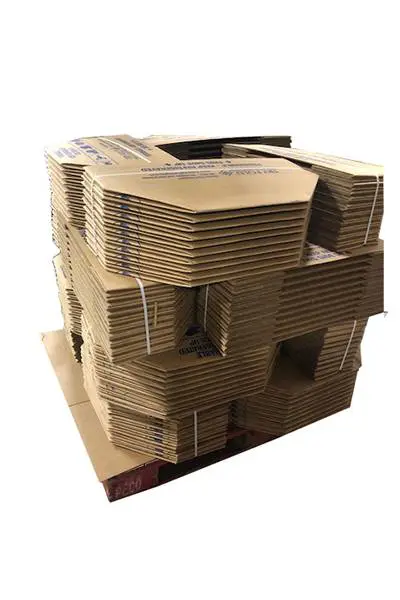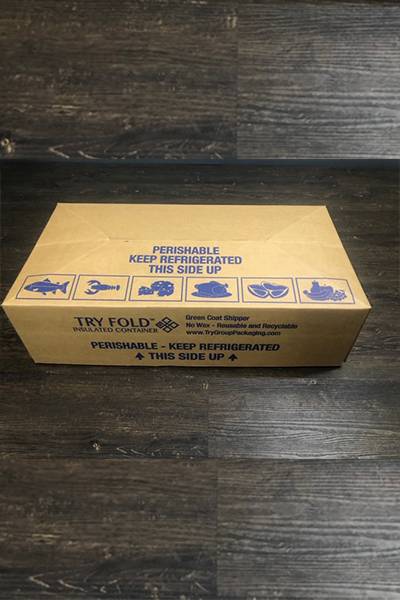 This cooler is a foldup cooler that is portable and reusable. Capacity is 18 - 26 quarts and the inside dimensions are 9" X 12" X 9" tall.
This is a custom printed cooler only. Reach out to us with your design and graphic and let us create a cooler for your company and/or event.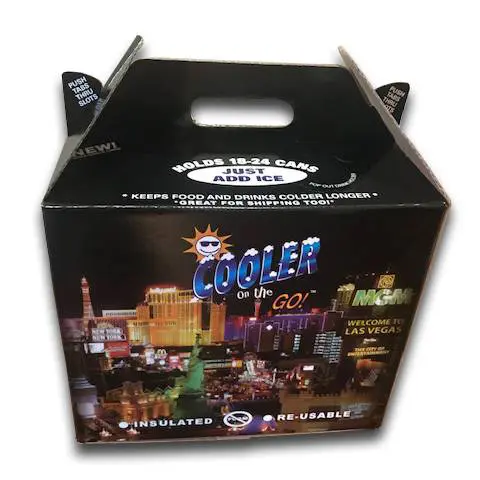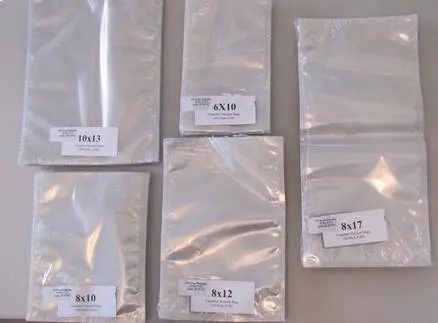 Vacuum Bag
Pouches / Polybags
We represent made in USA-commercial grade 4 Mil vacuum bags that are available in many sizes with or without printing on the bags. Our Vacuum bags are FDA Approved and meet the U.S. Food and Drug Administration for direct contact with food for packaging. We can ship directly to your freight forwarder with a minimum of 10 cases per order. You can mix bag sizes to meet the 10 case minimum. The lead-time is 10-15 days shipping.